Outdoor Storage Shed
Our Services
Exceptional Build Quality
Crafted with premium HDPE these outdoor storage sheds and patio deck boxes protect contents from rain, snow, and inclement weather year-round.
Trusted 5-Year Warranty
We back every Horti Cubic outdoor shed and patio storage box with an industry-leading 5-year warranty to ensure it stands up to every harsh season.
free shipping
Shop now, and experience seamless, hassle-free online shopping with timely deliveries and zero shipping charges!
Interest-Free Payments
Along with free shipping each of our storage sheds comes with a "Buy Now, Pay Later" option so you can protect your budget while protecting your stuff.
Store Tools, Equipment, Gear, or Toys Seamlessly
Our Best Seller
Minimize the clutter on your deck, patio, or backyard areas with weather-resistant, heavy-duty plastic storage sheds and deck boxes that offer multipurpose
SHOP NOW
Real Customer Testimonials
Average Rating 4.8/5
Dean

I bought this storage shed with the hopes that it would fit 2 sets of winter tires (8 tires) on rims for storage. Tires fit no problem with a considerable amount of room left for gardening tools etc. The tires stacked on top of each other basically took up 1/2 of the shed. Doors close properly and this shed gave us a little bit more storage outside. Construction seems solid enough and putting it together was very easy. Definitely recommend.
Meteu

Realy nice storage shed for a small space. Easy assembly if directions are followed. Two people make it easier, but can be done by one. Follow the easy directions for making the shelf. A shelf is quite helpful.
Michande

I looked at a lot of deck boxes, and this one stood out for a few reas...
Millie

I couldn't be happier with these units. We needed extra storage in the basement and these were just perfect. They are solid and easy to assemble. The packaging that it came in was very well protected, I've never seen anything like this before. I highly recommend it.
We specialize in walk-in storage sheds, deck boxes, balcony storages
Exceptional Build Quality
Here at Horti Cubic we love the outdoors and staying organized!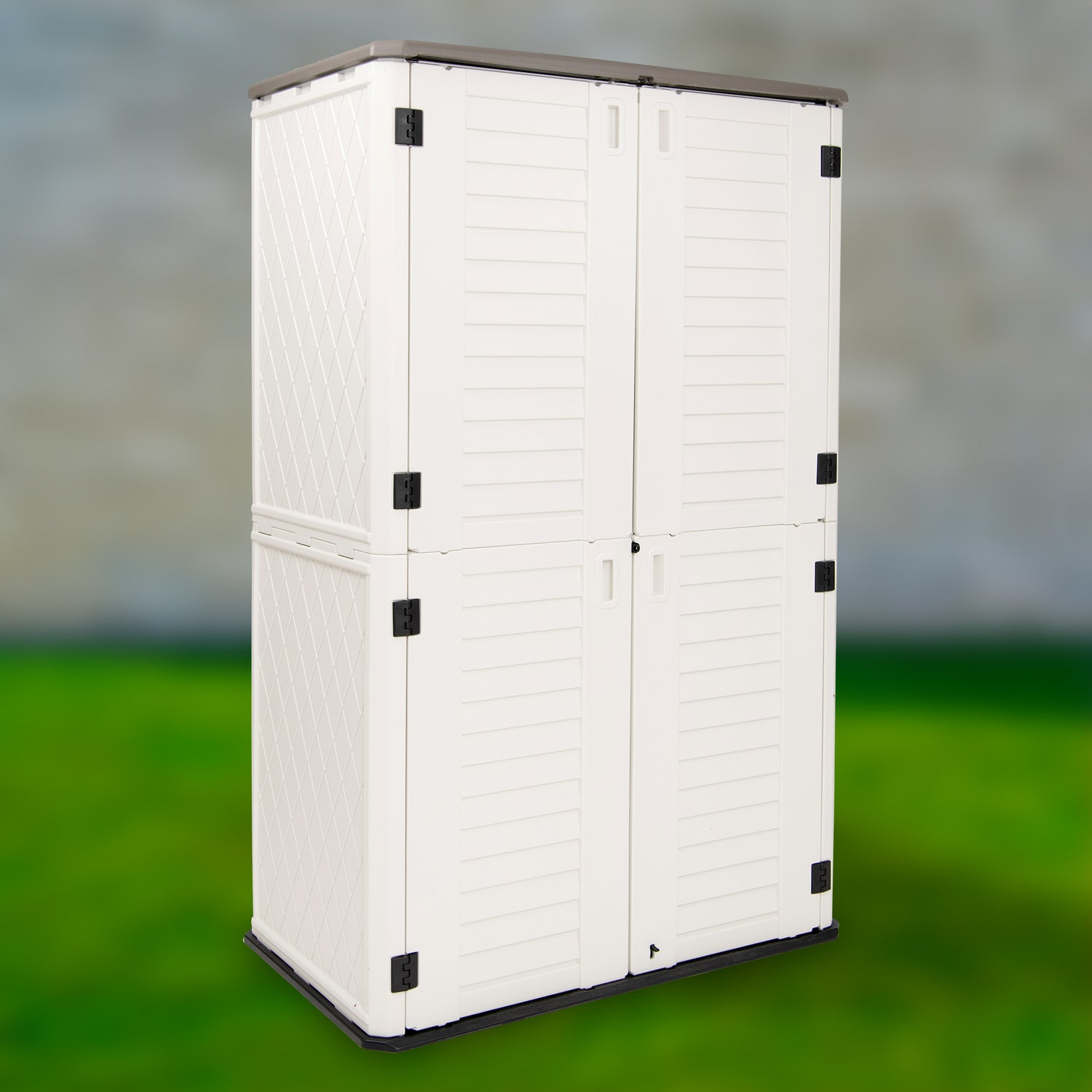 Versatile Storage

Keep "outdoor" accessories neat, organized, and protected.

Premium HDPE Plastic

Our durable storage sheds are made from 95% recycled plastic!

Stylish Curb Appeal

These boxes offer aesthetic charm to match outdoor landscaping.

Minimize the Clutter

Storing extra tools, toys, or accessories can help reduce daily stress.
Frequently Asked Questions (FAQs)
Where can I track my order?
How much does shipping cost?

Shipping of a Horti Cubic products anywhere in Canada is absolutely free, so you'll be able to get organized quickly without added cost.
How long does it take to receive my product(s)?

New orders are generally processed within two business days and shipping typically takes 5-7 business days, which means you'll have them ASAP.
What is your current return policy?

We value your business and want to ensure your happiness which is why we have a 30-day no questions asked return policy to meet your standards. You can check our return policy here
Do your products come with a warranty?

They absolutely do! Every deck box and storage shed comes with a 5-year limited warranty to ensure it stands up to regular use and weather.
How can I contact you if there's an issue?

If there's a question not answered by our FAQ page please send us a quick email at info@horticubic.com and we'll be happy to provide additional support.

The Horti Cubic team is here to answer any questions, offer suggestions, provide relationship advice – so strike up a conversation by contacting us.